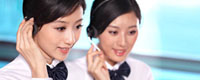 Name: Jojo Zhou
Mobile: +86-13713518903
E-mail: jojozhou@cable-top.com
Add: No. E05, Songbokeng Road, Qiaozi Village, Changping Town, Dongguan City, Guangdong Province, China
Skype: jojo.zhou2013
QQ: 475015709




Product name : Angled VGA Monitor cable

Product No. : SJX-VGAAG

Price : VGA cable

Length/Size : 1m

Color : Black

Conductor : Copper

Connector type : VGA

Connector color : Nickel/24k gold plated

Shielding : Triple Shielding
Details:
Angled

VGA Monitor
cable specification:
Input: Angled VGA HD15pin male
Output: VGA HD15pin male/female, with Angled VGA extension cable available
Standard VGA Coax wire,
with3+5/3+6/3+7/3+9 Types available on request
Connector color: nickel-plated/24k gold plated
Shielding: aluminum +Mylar + braid
Jacket: black/Grey PVC on request
Length: 1m/on request
Ferrite cores additional
Angled VGA Monitor
cable
Features:
VGA monitor cable
With high quality copper conductor ,
3 coax wires to get a high resolution and deep color performance;
dilivery high resolution image with a 50M long distance with the VGA cable .
And this Angled VGA cable, very suitable for network construction in a limited space.
Angled VGA monitor cable also Supports hot-plugging and Plug-and-play
VGA plug full under mold shield helps meet FCC requirements and all covered female plug to support Good contact and not easy to be deformed
Angled VGA cable Support
VGA/SVGA/WSVGA/XGA/WXGA
with VGA supported monitor
Supports 4.95Gbps bandwith, with Analog compliant
For some customer want to place their HDTV or LCD on a wall panel, this angled VGA cable is just the one to finish a excellent work in those tiny space without damage on VGA cable. and also ideal for high resolution play with VGA graphics card to VGA port devices like HD LCD,Projector etc.
And to finish construction on school or business office, you can find
VGA extension cable
to simplify your work. All
VGA cables are with one year manufacturer warranty, low price for OEM products
.